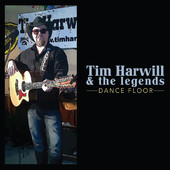 Respected music journal Roots Music Report awarded the 'Dance Floor' album 4 Stars in a review published this month.  Many thanks to RMR for the notice and to all of those involved with the production for their excellent work.
The url below will take you to the RMR web site and the album review there.
http://www.rootsmusicreport.com/reviews/view/168/album-review-of-dance-floor-by-tim-harwill-the-legends
Thanks for being here and see you at the show.
– TH, 11/26/2014