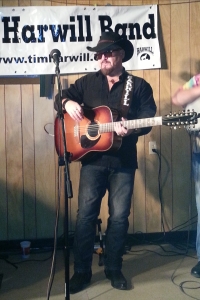 A performing songwriter heavily influenced by the old school of country music, I once earned my daily bread recording and touring my own brand of hillbilly music. I'm a Metis-Canadian and spent my younger days fronting a country/rock cover band that toured the saloon circuit primarily in Manitoba, the province in Canada where I was born. I was also the songwriter and lead vocalist of the Alberta folk/roots recording trio Harwill through the roaring nineties. A seventeen year recording career kept me on the stage as a solo artist at venues from coast-to-coast in Canada and as far south as Nashville, Tennessee, to open the 21st century. In spite of a life-long battle with stage fright, performing my music for a live audience was undoubtedly the great love of my life. After seven critically praised album releases, and a number one Americana Hit in the USA, I'm now without a label and a former recording artist. There's a lot more to the story but I'm a man that values his privacy and I'm not much for blowing my own horn.
My most recent recording is titled 'Dance Floor'. It reached the #3 position in Canada and #5 in the USA on the Americana Album charts according to Roots Music Report. 'Dance Floor' was also Americana Radio's #47 most played album of 2015 in the USA according to the same source. The album was also home to #1 Americana Hit song 'I Love My Dog' and the #7 single 'Like Me & You'.  It was first released via iTunes on September 2, 2014. The album features a hand-picked band of veteran country musicians from across western Canada known as 'The Legends'. It was the second album produced with the studio band and recorded at Thorsby, Alberta. This was also my third recording issued on The Sterling Label, and the seventh since the 1998 issue of my debut CD.
A transplanted Albertan for the majority of my life; I'm a lacto-ovo vegetarian due to my health and atheist due to my freedom-loving mind. I'm also a son of a family that once counted eight siblings and blessed with children and grandchildren of my own, for whose love I am ever grateful. I live with my best friend and canine traveling companion Mr. Koko, in the picturesque village of Thorsby, Alberta, in western Canada.
 "The writer is a spiritual anarchist, as in the depth of his soul every man is. He is discontented with everything and everybody. The writer is everybody's best friend and only true enemy – the good and great enemy. He neither walks with the multitude nor cheers with them. The writer who is a writer is a rebel who never stops." – William Saroyan, 1908-1981 (from The William Saroyan Reader, 1958)