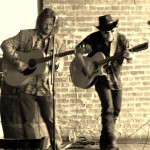 After spending a fabulous evening on stage with The Sure Things up north with our new friends at the Pelican in Plamondon we'll be keeping it closer to home this weekend with a stop into the Hotel Saloon at Thorsby this Saturday night. Believe it or not this will be my first stop into the local tavern and I'm looking forward to hanging with the neighbours as it's been a few years since my last performance here at home.
The Sure Things had a ball at Plamondon last weekend and we're looking forward to a return visit to the Pelican for the MudBog Races in mid-August. Thanks kindly to CJ and the crew for the excellent party and see you then!
Here's hoping you'll stop in for a howdy-and-shake if you're in the vicinity.
Thanks for being here and see you at the show!
– TH, 07/10/2013