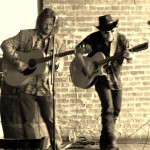 With the mini-heatwave now receding and the Alberta summer returning to normal we're off to the northern reaches of the province this weekend for a Saturday night show with The Sure Things at Plamondon. While we've heard good things about the Pelican (the name of the local saloon) this will be our first trip up 63 to check the place out and we're looking forward to meeting some new friends.
Here's hoping you'll drop in for a howdy-and-shake if you're in the neighborhood.
Thanks again for being here and see you at the show!
– TH, 07/04/2013