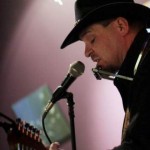 Thanks for joining us this Sunday, July 1, 2012, at Northlands Park, 7515 – 118 Avenue, Edmonton, AB, as we celebrate Canada's 145th birthday with a multi-band concert on the Telus Stage! I'm thrilled to be part of the 5th Annual North Edmonton Canada Day Celebration featuring a diverse lineup of local and touring artists including Celtic Fusion Illusion, Jennifer Waniandy, Bob Cook, The Bark, Mad Fly Ball Team, and of course yours truly. Here's hoping you're able to join us as we celebrate our country and our freedom at this family-friendly event that runs from 12 Noon until 4PM.
In other developments, my disgust for the anti-copyright movement here at home and around the world has me contemplating my own early retirement from the business of recording music. I'm sorry to have to say it but it makes no sense for me to continue to produce professional studio recordings when this work that I've devoted a lifetime of blood, sweat, and tears to create is devalued to the point of being worthless while those without the artistic capacity to create for themselves are celebrated as genius. It being neither sensible nor emotionally tenable for this artist to work under such terms at this time, the prospect of retirement from studio recording ~ a time-consuming, technical, demanding, and expensive process to which I've happily devoted years learning to understand and master ~ stands as perhaps my only appropriate response to a world gone mad with bald cynicism and naked hypocrisy!
I'll do my best to keep you posted regarding my future plans for recording while I continue to ponder these and the myriad other vagaries this life presents a man that wanders. In the meantime, the url below will take you to an evocative and insightful explanation of some of the background for the artistic and professional crisis enveloping myself and the world of professional art and music.
http://thetrichordist.wordpress.com/2012/06/27/a-brief-history-of-artists-control-of-their-product/
As always, thanks for checking the calendar here for the latest updates and see you at the show!
– TH, 6/26/2012