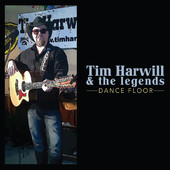 The accomplishments credited to my last album release continue to roll in from parts south of the 49th parallel.  Imagine my surprise when Roots Music Report informed me that 'Dance Floor' had finished as the #47 most played album on Americana radio in the United States during 2015.  To say I was shocked would be an understatement of considerable size friends and I send my sincere thanks to everyone living in Americana Radioland USA for the much appreciated support!
How is it that a recording so popular with my neighbors has received little to no industry support or radio airplay here at home in Canada?
Thanks very much to Bill Wence Promotions and The Sterling Label for their committed support of the 'Dance Floor' album.
All things willin' and the creek don't rise I'll cya at the show.
– TH
January 19, 2016