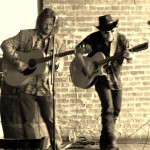 The THB returns to the highway this week and will be entertaining the revelers at a pair of 'holiday' celebrations on the Alberta prairie with some authentic outlaw country music. With a Friday night stop into The Bar & Grill at Mossleigh plus a Saturday night show in The Thirsty Beaver at Castor we plan to spend the cool of the day behind the wheel and a couple of hot nights on the stage.
While I've said it many times, the plain truth is that the music is performed for free while the fees charged are primarily used to cover the cost of travel. I'm not sure if you've checked the price of gas these days however between that, hotel rooms, meals, and wages for sidemen, the guy with his name on the bill is usually the least-compensated fellow in the show. Before you're misinformed yet again I'll also let you know that wages for professional musicians (including sidemen) haven't increased since the early 1950's which if anyone is wondering is decades before most of us performing today were born.
Which is why you need to love music above all else in order to do this with your life, as there are precious few rewards beyond that for all save the 1-2% of performers who find themselves at the top of the pop charts.
So this I do, beyond both reason and intent. I love it more each day and remain transfixed by the awesome power of words and music. A form of magic, I'm grateful each day to have been touched by such a sweet madness as this. For without it I am simultaneously empty yet overwhelmed, shocked by insight and confounded by ignorance.
Ain't life grand?
Thanks for being here and see you at the show.
– TH, 10/22/2013