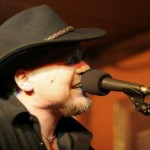 This week marks the launch of the 2012 tour of Newfoundland & Labrador; my 3rd visit to the magical Rock,  and begins with a return engagement this Friday, April 20, at the one-and-only Kelly's Pub in beautiful downtown Grand-Falls Windsor. One of my favorite stops anywhere and home to some of the very best friends of Harwill that I've been fortunate enough to make, I hope you'll drop in on Tina and the gang when I take the stage for an early show starting at 6PM.
In spite of my intense dislike of flying I'll be packing my Taylor 454ce LTD 12 string (known affectionately as 'The Other Woman' in these parts) into the CXJSE Jumbo by Casextreme and departing late tonight for my most extensive tour of The Rock so far. Anchored by a few return visits we've got a half-dozen shows scheduled in places that most folks ~ including myself! ~ have never heard of and I can't wait to get out there and socialize with the neighbours.
What is also apparent is that my love for playing my music trumps my hatred of flying!
Who knew?
Thanks for checking the calendar here for the latest updates and spreading the word that I'm on the way and see you at the show!
– TH, 4/18/2012