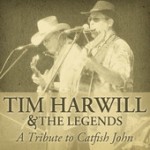 The first single from my new album has been released to country radio across Canada! Call, text, or email your local country radio station and request 'Rollin With The Flow' by Tim Harwill & The Legends today. Thanks very much for your requests from across this great nation of ours, I appreciate your support very much and have included the list of stations from across the country where you can find the new single below.
Alberta: CFCW-AM Edmonton, CFWE Edmonton, CHAT Medicine Hat, CHBH Drayton Valley, CHBW Drayton Valley, CHHK/CHLB/CJBZ Lethbridge, CHLK/CHLW St. Paul/Bonnyville, , CHRB High River, CJOK Fort McMurray, CJXX Grand Prairie, CKBF Medicine Hat, CKGY/CKDQ Red Deer, CKFM-AM Olds, CKYL Peace River, CKWY/CJXK/CK,/CKKY/CJEG/CILB Lloydminster, CIBW Drayton Valley, CISN Edmonton, CKLJ/CKJX Olds, CKMX Calgary, CKQC/CKRA Edmonton, CKRY Calgary
British Columbia: CJCI/CIHV Prince George, CBC Vancouver, CFTK/CJFW/CKTK/CHTK/CJDC Terrace, CFWB/CHQB/CFCP/CFNI Powell River, CHBZ/CKKR Cra,rook, CHMM Mackenzie, CIGV Penticton, CIVH Vanderhoof, CJJR Vancouver, CJKC Kamloops, CJNL Merritt, CKCQ Quesnel, CKLZ/CKOV Kelowna, CKRV Castlegar, CKKQ Victoria
Manitoba: CBC Winnipeg, CFRY Portage La Prairie, CFAM Altona, CHNK Winnipeg, CHTM Thompson, CINC Thompson, CJSB/CK, Swan River, CKDM Dauphin, CKLQ Brandon, CKMW Winkler
Saskatchewan: CJWW Saskatoon, CJVR Melfort, CFSL Weyburn, CHMX Regina, CILG/CH, Moose Jaw, CILX Ile-a-la Crosse, CJGX Yorkton, CJLR-FM La Ronge, CJ,/CJNS North Battleford, CJSL Estevan, CKBI/CKBL Sa,atoon, CKRM Regina, CKSW/CJSN Swift Current
Ontario: CBC Toronto, WBDR Kingston, Yangaroo Radio, Toronto, CFCY Toronto, CFGX/CHOK Sarnia, CFQX/CKX/CKXA London, CFRM Manitoulin, CHAM Hamilton, CHCQ/CJOJ Belleville, CHON Ottawa, CHSC Saint Catherines, CHVO/CHVR Pembroke , CIBN Buffalo Narrows, CICZ Midland, CIGM Sudbury, CIGY/CIKR/CKXC Kingston, CIKZ Kitchener, CING Hamilton, CIXX/CFRL London, CJAQ Toronto, CJBB Englehart, CJBQ/CJTN/CIGL Belleview, CJBX London, CJDL Tillsonurg, CJKL Kirkland Lake, CJKX Oshawa, CJMQ  Lennoxville, CJMX Sudbury, CJQM Sault Ste. Marie, CJSP Leamington, CJTT New Liskard, CKAT North Bay, CKBY Ottawa, CKEC Oshawa, CKNX-AM Wingham, CKON Cornwall, CKPR Thunder Bay, CKPT/CKQM Peterborough, CKRK Erin, CKUE/CFCO Chatham, CKYC Sudbury
Quebec: CHUN Quebec City, CIEU Caeleton, CJMS Sherbrooke, CKVM Ville-Marie, CKYQ Plessisville
New Brunswick: CFAI Edmunston, CHOY/R FA/ARC du Canada Moncton, CHTD St. Stephen, CHWV/CHSJ Saint John, CIBX Fredericton, CIMS Balmoral, CI,-FM Saint John, CJEM Edmunston, CJMO Moncton, CJXL Moncton, CKHJ Fredericton, CKRO Pokemouche
P.E.I.: CJRW Summerside
Nova Scotia: CFRQ/CIOO/CKUL/CFDR/CJCH/CIEZ Halifax, CHFX Halifax, CJCB/CKPE Sydney, CKEN/CKDY/CKAD/CKWM Kentville, CKTI , CKTO/CKTY Truro
Newfoundland & Labrador: CFCB Corner Brook, CFSX Stephenville, CHCM Marystown, CIFX Lewisporte, CKCM Grand Falls-Windsor, CKXD/CKGA Gander
National: After MidNite (USA), Canadian Trucking News, Da Silva Group Radio Network , Deep , Toronto, ON , DIVA (studiospeak) , ERG Music, Galaxie (GX08 Hot Country), Galaxie (GX09 Country Classics), Maritime Broadcast System PEI, Max Trax (Country and Blues ), ReQuest It, Riverside Country, Spafax, The Road, Vista Radio, VOCM
As always thanks very much for checking the calendar here for updates and see you at the show!
– TH, 3/17/2012