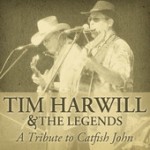 I'm very pleased to share the news that my latest studio album titled 'Tim Harwill & The Legends – A Tribute to Catfish John' – my 2nd release on the Sterling Label – is available exclusively on iTunes today. I've included a link to the iTunes store below and thank you very much for your support!
http://itunes.apple.com/us/album/a-tribute-to-catfish-john/id506499102
Featuring some of my very best new songs delivered with a band of legendary country musicians from Alberta along with a selection of classics arranged in the Harwill style, I'm proud to offer the world a recording that my late friend and musical mentor Catfish John Peterson would have enjoyed listening to. Produced and engineered by yours truly here at the Harwill Music studio at Thorsby, Alberta, the album was mixed and mastered by Mark Ripp at Toronto, Ontario, features artwork by the delightful Heidi Schlitt and reproduction by long-time partner Indie Pool Canada. The all-Canadian production is available in digital format exclusively on iTunes, with CD hard copies available by mail order and off-of-the-stage only.
Thanks very much for your support and for your legal downloads, while for those who prefer CD format (such as myself) mail order information is available on the 'Buy Music' page here on the web site.
Thanks always for checking the 'Tour Dates' page for the latest calendar updates and see you at the show!
– TH, 2/29/2012