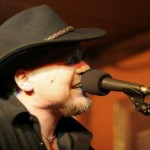 Is the news that I'm sharing with you today, and I'm thrilled with it!
While it wouldn't be possible to name everybody without offending somebody due to them being missed, I will say that there's been more than a few of you fine folks out there who've made a big impression on a certain hillbilly fella from east of the Rockies, and I'm glad to have had a chance to get to know each of you. Here's hoping it won't be too long until I'm out your way again, because your warm hospitality and great taste in music has me hankering to get back out there for another helping of it! Thanks very much once again to everyone who came out and supported us along the way; from Holly and my clan who joined us to kick things off at Calgary, to Tracey, Dave and the crew at Golden, to Cyril, Melissa and the gang at Revelstoke, to Mandy and the friends at Sorrento, to Brad, Kevin, Paul and his clan at Vancouver, to Karen and the girls at Cache Creek, to Gail, Carson, and all the good folks at Prince George, to Roseanne, Joe, and the extended family at McBride, I look forward to a 'revisit' with you all in the future and wish you nothing but the very best until I see you again!
I was also pleased to read the latest excellent review for 'The Wander Man Revisited' upon my return to Thorsby, and I've included a link to it below. This one is written by noted western Canadian music journalist Calvin Daniels, and originally appeared in the weekly 'Yorkton This Week' newspaper on March 31, 2010, and it's another outstanding review for the new record which I'm happy to share with you. My thanks to Calvin Daniels and 'Yorkton This Week' for the appreciation and support!
Enjoy!
http://calmardan.blogspot.com/2010/05/review-tim-harwell-friends-wander-man.html
I'm stopping to have some repairs made prior to getting back on the highway here in Alberta until mid-July, after which 'The Wander Man Revisits' tour will continue on to parts east up here in Canada, and I'll thank you for staying in touch and keeping up with the calendar here on the web site, and I look forward to seeing you at the show. As always, keep on keepin' on and stay well until I see you again!