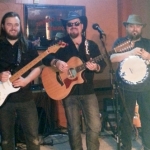 After an extended holiday break the Tim Harwill Band returns to the stage for a rare 3-nite run in the Draft Bar & Grill at Edmonton this weekend.  The first set kicks off at 7:30PM on Thursday, April 2, and we take the stage at the same time on both Friday & Saturday nights.  We look forward to seeing you at one of the city's favorite live music venues located at 12912 – 50 Street.
It's the THB trio this week and we'll be playing tracks from the new album as well as a selection of your outlaw country favorites.
Thanks for being here and cya at the show!
– TH, April 1, 2015