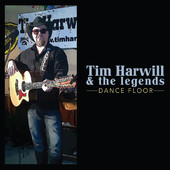 Just a short note to share more good news.
For the second week in a row 'I Love My Dog' holds the #1 position on the RMR U.S. Americana Country Song Chart!  For the week ending February 10, 2015, my song 'Like Me & You' has finished in the #19 position on the same chart while the 'Dance Floor' album featuring those tunes has finished at #9 on the RMR U.S. Americana Country Album Chart this week!
Congratulations & thanks very much to Bill Wence Promotions & The Sterling Label for the tremendous support.
I'm also pleased to send congratulations & many thanks to The Legends studio band & everybody on the 'Dance Floor' production team.
Thanks for being here & cya at the show.
TH
February 13, 2015