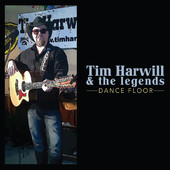 The new album DANCE FLOOR by Tim Harwill & the legends is now available worldwide on iTunes and by mail order on CD!  See the 'Music' page here or click on the album cover above to get your copy from iTunes today or follow the instructions below to order your CD copy by mail now.
Remember that only CD's include lyric sheets and additional photos.
To purchase DANCE FLOOR or any of my previous albums on CD send your cheque or money order in the amount of $20 per copy ordered (Canadian Funds) payable to Sterling Management Services along with a note detailing your choice of album title(s) to:
Sterling Management Services
P.O. Box 611
Thorsby, AB, T0C 2P0
Canada
  The above price includes tax & delivery by post. We will ship your order within 5 days of receiving your cheque or money order.
Remember to include your mailing address with your payment!
If you have any questions about ordering please contact us at sterlingmanagementservices@gmail.com
As always thanks very much for your support!
– TH, 09/05/2014