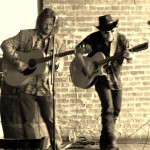 After enjoying a busy weekend on stage for the NAD Festival at St. Albert and at the Mercer Tavern in Edmonton with new band-mate Dustin Zawalski we're heading north to Ashmont, AB, for a Wednesday afternoon performance at Porky's BBQ Pit this week. A summertime tradition at Ashmont, we're pleased to receive an invitation to host the afternoon concert/jam in spite of the fact that I'm going to be a food-less vegetarian in a sea of BBQ!
Here's hoping that you'll stop in if you're in the vicinity because we're sure it's going to be a barrel of laughs and it sure won't hurt me any to miss a meal.
Thanks for being here and see you at the show!
– TH, 06/25/2013