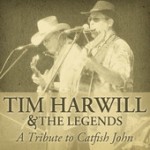 Thanks for joining us tonite, Thursday, May 3, for a live performance celebrating the successful completion of my latest tour of Newfoundland and the availability of my new studio album 'A Tribute to Catfish John'.  My latest full-band production features a hand-picked selection of genre classics arranged in the Harwill style alongside some of my very best new songs and I look forward to sharing them with you at one of my favorite Alberta tour stops.  Recorded in the Harwill Music studio here at Thorsby with a legendary band of Alberta musicians and mixed and mastered by Toronto, Ontario's Mark Ripp, this is my best studio work so far and I'm proud to share it with you at the iTunes link below.
Jeffrey's Cafe & Wine Bar is an intimate live music venue that also serves up some fabulous food. They are located at 9640 – 142 Street. The show starts at  8.00 p.m. and the cover charge is $10.00.
The new album is available on iTunes now and I thank you for your support.
See you at the show!
– TH, 5/3/2012